GrossePointeToday.com
Benjamin Burns, Director, Journalism Program, Wayne State University

• Detroit, MI
CONTACT INFO

Benjamin Burns, Director, Journalism Program
Wayne State University
Detroit, MI 48202
(313) 577-4572
E-mail
Website
Twitter

Wayne State University's journalism program has recruited more than 20 displaced, retired and otherwise available professional journalists to write and edit content from citizen contributors and online journalism students at WSU and the University of Michigan-Dearborn for a full-service news and information site about Detroit's five Grosse Pointes. Professionals have pledged $20,000 in seed money to support the first year of the program.
Check back for future news and updates.

• May 2011
• November 2010
• June 2010
• March 2010
• December 2009
• October 2009


---
GrossePointeToday.com Will Be Financially Viable Into 2013
May 2011
Two years after launching GrossePointeToday.com, editor Ben Burns reports the site has seen positive cash flow for each month in 2011 and he expects it to remain financially viable for at least a couple more years.
In the five cities GrossePointeToday.com serves, the site has become a "recognized and respected news and community information force."
"That means we are a fairly stable alternative voice in the community, known to cover issues, politics and breaking news better than anyone else," he said.
Recently, the site broke a story about two top administrators losing their jobs at a local high school because of pornography on their computers. That news generated more than 9,000 hits on a Friday, a drastic uptick considering the site receives 11,000 hits in a normal month. Over time, readers have increased the average time they spend on the site to more than four minutes. The site also delivers a weekly e-mail newsletter to more than 7,800 addresses.
While they aspire to increase those statistics, Burns and his team of 10 volunteer contributors continue to see traction on interactive features, such as the public safety map and garage sale map.
Since launching the site in conjunction with Wayne State University in April 2009, the Grosse Pointes have seen a crowded news space continue to fill. Patch.com recently opened new sites in the same coverage area. The sites, part of AOL's hyperlocal behemoth, are edited locally and have been luring freelance contributors away from GrossePointeToday.com by offering higher payments for stories. This has led Burns to consider raising his rate.
Burns attributes positive cash flow in 2011 to advertising, which he is attempting to take to a higher level. "We have had a pretty positive response from advertisers who are aware we exist," Burns said.
He is also raising money from local foundations to offer Wayne State students partial scholarships for working on the site. He plans to bring another person on board to expand advertising sales and marketing.
The Chamber of Commerce has invited GrossePointeToday.com to take part in strategic planning sessions on the future of the area.
"It has been a fun ride so far and all our principals are committed to continuing to serve the Grosse Pointe communities," Burns said, reflecting on the last two years.
The site's existence has been possible, he said, because of J-Lab's New Voices grant. "We would like to thank you for your support and the Knight Foundation's commitment to exploring new ways to deliver news," Burns said. "We would not have been able to survive without it."
---
GrossePointeToday.com Revamp Gets Results
November 2010
The team behind GrossePointeToday.com is demonstrating that flexibility and a consistent focus on improving its site for users can have an impact on audience size and engagement.
Among the changes made after GPT's president, Sheila Tomkowiak, returned from a Knight Digital Media Center News Entrepreneur Boot Camp, was a refocused mission statement to emphasize the site as "an open forum for discussion from all members of the Grosse Pointe community."
As a result, readers - particularly community leaders - have begun posting comments more regularly. "The November [2010] elections brought a lengthy heated exchange on our pages from two school board candidates," said editor and publisher Ben Burns.
New Features Added
A weekly e-newsletter was created to emphasize popular features and the mailing list has doubled in less than a year to roughly 600 people. The rates of people opening the email (47.6 percent) and clicking on links to visit the site (24.9 percent) are higher than the industry average (17.8 and 3.6 percent, respectively), Burns noted. At the same time, the bounce (0.2 percent) and unopened (52.2 percent) rates are lower than average (0.9 and 81.3 percent, respectively).
GrossePointeToday also took advantage of what visibility and site traffic social media can generally offer. After changing to a Facebook "fan" page, as opposed to a "group" page, the site gained more than 450 fans within the first two weeks, Burns said.
One new feature of the site is the "Estate Sale/Garage sale" map, patterned after the site's already popular public safety map. The area is a "hot place for estate sales," Burns said. He anticipates that this feature will "draw significant traffic."
The site's community calendar also is entirely reader-generated and has up to six events in one day, compared to late 2009 when there were four or five events per month.
Site traffic continued building slowly but at a steady rate through 2010. GrossePointeToday averages about 26,329 page views per month, and search engines account for half of the site's traffic, Burns said. "When readers find the site, they tend to return," he added. "Readers were spending two minutes on the site six months ago; that number is now up to four minutes."
Realizing the site's value
The community seems to be responding: In early 2010, the site approached the local Junior League offering to partner with them in promoting their Show House. They were uncooperative, and despite that, Burns and his team gave the event coverage. The league has since approached GrossePointeToday to publicize their Christmas fundraiser with copy, photos and an advertisement. "The organization has come to realize our value," Burns said.
Donations have become GrossePointeToday's primary means of financial support. In addition to seeking funds from local foundations, the site's readers are encouraged to contribute. "We have added a donation block to the site so readers can contribute," Burns said.
Grant proposals for local foundations are in the works. Burns said they have scheduled an early December meeting with the CEO of the Community Foundation of Southeast Michigan, and they are approaching several small Grosse Pointe area foundations to support a scholarship for student reporters.
The remaining challenge for GrossePointeToday remains generating more revenue. Currently, the site has $24,000 and has started paying veteran freelancers $100 to $200 for in-depth stories. Burns and the GrossePointeToday team are reviewing marketing proposals from area firms and may hire a development or advertising sales representative early in 2011.
"We are hearing more and more that people are finding the site useful and enjoyable," Burns said. With a renewed focus, GrossePointeToday seeks to tackle those challenges head on in the New Year.

- Briona Arradondo
---
Grosse Pointe Today and Tomorrow
June 2010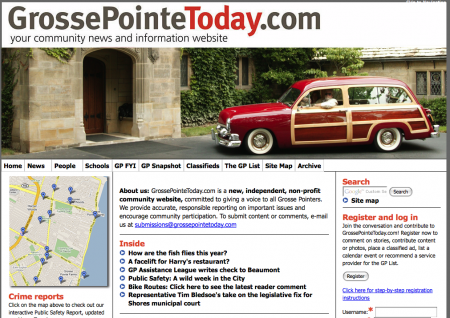 Despite its woes with an advanced content management system and headaches with a failed advertising partnership, Grosse Pointe Today continues on track for its second year. In addition to receiving 501(c)3 status from the IRS, the site has also signed an experimental agreement to share content with Yahoo.
GrossePointeToday.com launched with a beta version in early 2009, in the hopes of getting the entire site live within 60 to 90 days. That did not happen on schedule because Drupal, the more sophisticated software they used, came with a steep learning curve for their software designer. After hiring an assistant for the designer and a "so-called Drupal expert" as a consultant, much of the site's first year funding went to development, monthly maintenance and server space rental.

"I would recommend that other start-ups seriously consider using WordPress," said publisher Ben Burns, of the free blogging platform. "At the same time our site has been repeatedly praised for its design, ease of use and effectiveness so you have to weigh the two factors against each other."
The site has been humming along since, adding an archive feature in December and gradually building an audience in the process.
Citing a slow month in April due to spring breaks at local schools and Wayne State, Burns reported 6,319 unique visitors that month, with 26,650 page views and an average of 4.22 pages per visit.
However, the biggest single headache for Burns in running the site is advertising. "We thought we had the perfect arrangement with a 40-year-old Bluebook directory of the area that lacked a decent website. We would promote and link to their directory and their staff of six would sell ads."
The company told Burns they could not find an individual to sell exclusively for his site. Once Burns found his own salesperson to work based on commission, the former auto supply salesman sold few ads and quit citing the difficulty of working with sales people from the company that "kept claiming dibs on the most logical local advertisers." Promising a big push in the first part of the year, the sales team sold a few ads in January, none in February and one in March. Grosse Point Today is reevaluating its advertising strategy.
The Yahoo arrangement will not net Grosse Pointe Today any income, but it may generate traffic from new users.
Among the best ideas from his team this year, Burns points to the public safety map they created using Google Maps. Another top feature remains the changing image on the home page, which gets refreshed four to five times a week, and users are submitting their own pictures. And videos uploaded from two local high school sports competitions within 24 hours after the event have also proven popular.
Setbacks, in addition to the operating system and the advertising arrangement, include the longer than expected time it took to set up an archive system and inadequate hosting on a borrowed server. While the site each semester averages six students from Wayne State, where Burns directs the journalism program, other schools have not delivered as much content as expected.
As their second year of funding gets under way, the site will have $25,000 in the bank, but Burns says they need to address revenue. "We simply can't afford to reward the folks that are putting in the hours to make the site," he reports. He is exploring offering local governments the chance to put content into dedicated sections of the site, since they are cash-strapped themselves and may not be able to continue operating their own websites.

Other than the Yahoo deal, their plans for Year Two have not changed in scope. They plan to pay up to $150 for in-depth, assigned stories and will start compensating student reporters to help cover fuel costs. In addition, they will spend $1,000 to $2,000 on marketing and promotion of the site. And hopefully later in 2011, the site will be able to compensate managing editor Nancy Nall Derringer and associate publisher Sheila Tomkowiak.
While no one wants to see other journalists fail, Burns has witnessed other former daily journalists in the market to launch sites of their own before giving up because, as he put it, "they couldn't compete with us in terms of 'feet on the ground.' "
---
GrossePointeToday.com Moving In the Right Direction
March 2010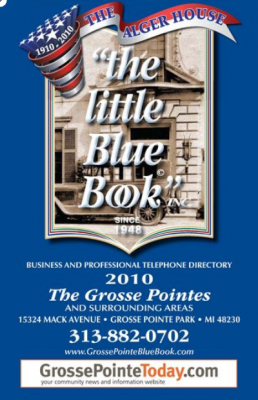 Ben Burns, editor and publisher of GrossePointeToday.com, was hopeful when he developed a relationship with "The Little Blue Book", an advertising publication in town. The company sells space on GroseePointeToday.com - and did sell $850 worth of advertising in January.
But, Burns adds: "We did have a little difficulty convincing them that we wouldn't simply do a story for each advertiser they sold an ad to, but I think we have that straightened out." The next step, if advertising continues to grow, would be to hire a part-time advertising sales person, Burns says.
In the meantime, the site continues to grow. Metrics show 11,558 unique users for January and February, with most users coming from search engines and an average of 2.74 pages viewed per visit.
On the editorial side, GrossePointeToday.com covered a community event, "Pointers of the Year" with video and print within 24 hours - while the local weekly took two weeks to put up "a series of grip and grin pix" on the event.
Community awareness is also on the rise. Burns is exploring the possibility of hosting pages for five localities that are cutting their budgets, but there is a "significant older minority that do much more than e-mail on computers", he reports. So convincing them to find information online may be a challenge.
Another challenge involves the half-dozen students writing for the paper. They are quite willing, but not yet particularly able, reports Burns. Despite teaching by managing editor Nancy Derringer they still require substantial editing. However, others from the community are assisting with additional copyediting and supplying photos.
Burns is planning presentations to various civic and social clubs to get the word out. They have also ordered baseball caps, T-shirts and ballpoint pens for community events. And other would-be hyperlocal sites in Michigan have reached out for advise on how to get up and going.
In the meantime, Burns awaits word from the IRS on his application for 501(c)3 designation.
---
Grosse Point Today Pleased With Modest Success
December 2009
Ben Burns, the editor and publisher of Grosse Pointe Today, says that the site is performing well since its recent launch.
"...community members like what we are doing and see it as a professional alternative to the local weekly which avoids controversial stories."
"We continue to be pleased with our modest progress," says Burns. "We are now incorporated as a non-profit company—Grosse Pointe Today. And our tax man is in the process of filing our application for 501(c)3 status with the Internal Revenue Service."
The site is approaching 1,000 page views on some days and Burns says the public safety map (using Google mapping tools) is quite popular, as is the regularly changing home page header photo shot by retired Free Press pro Larry Peplin.
The calendar has become quite popular with various groups and agencies as a way to communicate with the public, he added.
Other coverage is also well received. Grosse Pointe's November election coverage drew praise from the local school board President as he compared it to the local weekly's efforts. The site ran biographies and position statements on every candidate in every local race, if they submitted them.
Some local funeral home directors are now uploading obituaries on their own and Grosse Pointe's list of locally recommended service people continues to grow, as does its free classifieds section.
Like many other New Voices sites, Burns notes that Grosse Pointe's corps of professional volunteers has fallen off from the dozen the site started with, but some semi-professional writers are now contributing. For example, the advisor to one high school student newspaper wrote a travel piece and another freelancer wrote a series of articles on bicycling in Michigan.
"Our student corps, since the first report, has proved outstanding, particularly Lauren Abdel-Razzaq, Isaac Elster, Peter Jurich and Tiffany Kaiser," says Burns. "We have had approaches from a half dozen other students to work with us [during the] Winter semester."
Grosse Pointe Today's managing editor attended the Online Media Association seminars in Ann Arbor and has been working with the students on video projects. Burns says there is also an arrangement with a pair of professional videographers, who provided short clips for each of the Grosse Pointe North and South high school football games and some soccer matches.
On the fundraising front, Grosse Pointe continues to take part in promotional activities of the Chamber of including a Business Exposition that drew a lot of interest.
"We are ramping up our marketing efforts gradually and our GrossePointeToday.com logo appears on the cover of the 12,000 locally distributed Blue Book telephone directories," writes Burns. They also planned a third 'wine, beer and munchies' reception for contributors in mid-Winter.
He also met with the advertising team of the Little Blue Book in early January to launch an advertising push. The Little Blue Book team has promised to devote half a dozen sales staff to the effort, and Associate Publisher Sheila Tomkowiak and Burns will provide a motivational pitch.
The efforts at fundraising have not been without their setbacks. Grosse Pointe's "Lone Ranger" single ad salesman had to take a temporary paying job so he could continue to support his family.
Burns said that they have been holding off depositing the $10,000 pledged to them by local professionals until they received non-profit status. "The bulk of the money we have received to date has gone toward site development and software development. We hope to spend more on marketing in 2010 and also start paying student and other significant contributors modest amounts for their work."
Burns says the bottom line thus far is that community members like what they are doing and see it as a professional alternative to the local weekly, which he believes avoids controversial stories.
He added the test would be whether he and his team can convince advertisers, local foundations and citizens to provide ongoing financial support so GrossePointeToday.com can become a sustainable entity.
"We should know the answer to that by the end of our original 18 month time line in October 2010," says Burns.
---
Becoming part of the Grosse Pointe community
October 2009
"The bottom line is that we are pleased with our progress so far."
There have been frustrations. And there have been setbacks. But Ben Burns, the editor and publisher of Grosse Point Today (and the Director, Journalism Program, Wayne State University in Detroit) says that things are, over all, going well.
"The bottom line is that we are pleased with our progress so far," says Burns. "That doesn't mean we haven't had frustrations and setbacks, it just means we feel we are meeting our original goal of being an essential part of the Grosse Pointe communities within 12 to 18 months."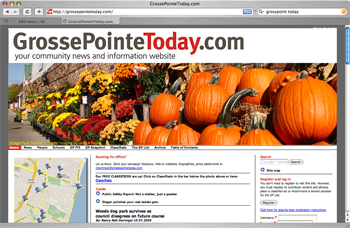 Grosse Point Today (GPT) was envisioned as a full-service news and information site about Detroit's five Grosse Pointes. It was originally organized as an LLC, but it is now in the process of converting into a non-profit corporation with 501c3 status. The actual online publication started in April with a beta site built around Drupal software. Burns wasn't completely happy with the speed at which certain elements of the site went live, but as of mid-October, the site will have additional key elements such as free classifieds and a comprehensive calendar. And free obituaries are expected to go up any day now.
Like many New Voices sites, Burns says he has met with mixed results from freelance contributors/citizen journalists. GPT currently has about 12 professionals volunteering their time or reporting efforts on a regular basis and an additional dozen that contribute sporadically. Burns says other retired or out-placed professionals have also promised to write stories but have yet to deliver.
Students were also part of the editorial plan. But the first group of students - 10 from U of M-Dearborn and eight from Wayne State - "made modest contributions, fewer than 10 stories." Burns says a more talented group of five WSU students have signed up this semester and are regularly covering council meetings in the five Pointes. Meanwhile, WSU is considering making Grosse Point Today's online Community Journalism course as a required core course on public affairs reporting.
While there have been some difficulties with sustaining the efforts of volunteer contributors, important stories are still being done. Managing Editor Nancy Nall Derringer wrote about the existence of a Twitter war between City Council representatives and opponents who would like them out of office, a story that generated considerable attention. Additionally GPT's story about how a local charitable institution managed to lose $12 million by speculating in real was also widely read and resulted in letters to the editor of the local weekly, which Burns says had never ran a word on the original story.
The site is also running interviews, bios and pictures of all candidates for office this November, which the local newspaper does not do. GPT has also made an arrangement with two professional videographers to shoot local events, particularly sports and post them on the site. These have proved popular with local residents as the site has RSS and Twitter features that update around the clock.
The story on the marketing side is also mixed but hopeful. Grosse Point Today held its first marketing effort in September at what was billed as Grosse Pointes' "World's Greatest Block Party," which Burns says generated very favorable responses from passersby. The increased visibility has also lead city officials to direct individuals and organizations with public service information to contact GPT.
"Our $1,000 marketing budget will provide refrigerator magnets, business cards for student reporters, hats and T-Shirts now that were are essentially completely in operation," says Burns.
The marketing effort also resulted in a 24% increase in page views the following week.
"Our Google diagnostics report 3,308 visits in the past month and 11,942 page views," says Burns. "The average user looked at 3.61 pages per visit. We had a bounce rate above 50 percent, probably due to the fact we are aggregating via Google all stories that mention Grosse Pointe. It has proved to be a popular feature."
The site's relationship with a professional advertising firm has been more complicated. Grosse Point Today has been working with "The Little Blue Book" a directory publisher that agreed to handle its advertising, billing and account management. But this has not resulted in as concentrated an effort to sell advertising as Burns and his team had hoped it would. So GPT recently hired someone to sell ads to complement what The Little Blue Book is doing. But Burns says this is not an ideal situation.
'We may have to re-evaluate the relationship [with Blue Book] in order to increase advertising sales," says Burns. "That would mean putting a sales person on our staff and handling the billing and, receipts which would mean supporting an office manager which we prefer not to do."
Gross Point Today continues to make an effort to reach out to its community. For instance, it has joined the local Chamber of Commerce on a trade arrangement. Burns says GPT is also looking to cement its journalistic credentials, joining the Online Media Association and applying to join the Michigan Press Association.