The Austin Bulldog

• Austin, TX
CONTACT INFO

Ken Martin
Editor and Publisher
(512) 474-1022
E-mail
Website
Twitter

Independent journalist with 30 years of experience proposes an Austin, Texas, nonpartisan site for independent investigative reporting in the public interest, with a focus on creating dialog with community members. Site will synthesize outside news stories while also posting original reporting and commentary. Readers will be encouraged to submit tips and their own commentary. Site will be updated daily.
Check back for future news and updates.

June 2011
June 2010
December 2009
October 2009

---
Bulldog's Bark Corners Local Officials
June 2011
In the 14 months since he launched The Austin Bulldog website, founder Ken Martin has reported stories that have led to the firing of a local city attorney, forced the Austin City Council to hold public meetings, unlocked 4,800 pages of private emails Austin officials used to conduct city business, and filed 24 open records requests.
His efforts have not only resulted in follow-up stories in the Austin American-Statesman, crediting the Bulldog's work, they have also leveraged a $25,000 challenge grant from the Kirk Mitchell Public Interest Investigative Reporting Fund and the Kirk Mitchell Environmental Law Fund. Martin has raised $8,600 of the challenge amount so far.
Moreover his reporting on violations of the Texas Open Monthly Meetings act plus a citizen's complaint triggered an investigation by the Travis County Attorney.
"I'm doing important work that's making a big impact here in Austin," says Martin.
Upon the launch of his site, Martin focused on the City of Georgetown and Williamson County. His stories led to the firing of Georgetown city attorney Mark Sokolow for allegedly facilitating improper payments to another city official and other issues.
Beginning in January 2011, Martin turned his efforts to the City of Austin, reporting that City Council members were violating the Texas Open Meetings Act by meeting in private to deliberate on city business before every council meeting. The reports led the council to begin holding public work sessions.
When the city refused to turn over private emails about city business from the mayor and council members, Martin fled a lawsuit that resulted in the release of the emails as public records. The emails showed a pattern of using private emails to discuss issues that avoided public scrutiny. On April 7, the City Council adopted a resolution requiring its members to used city email accounts for city business.
Martin published about 4,800 pages of emails as searchable files and has regularly posted original documents that were the basis of his reporting. He is also exposing other problems in how Austin collects and maintains its public records.
Martin's reporting has attracted the notice of other local news organizations. He says he gets a weekly check-in call from a reporter at KUT-FM, the local NPR affiliate, to keep up with the Bulldog's investigations. And he's been interviewed by several news outlets. He recently agreed to collaborate on an investigation with a local television station.
Martin reports that between January and May, the site has attracted between 2,100 and 3,900 unique visitors per month. They have viewed more than 254,000 pages on the site.
Austin Bulldog's Charging Ahead
June 2010
Ken Martin, founder of The Austin Bulldog, notes that investigative reporting takes time, and yet, "it's work that needs to be done." His site launched in April 2010 after careful deliberation, spending a lot of time selecting the best platform and ultimately settling on Joomla!, an open source CMS.
"Being a digital immigrant, and new to social media, I had a lot to learn," he said. But it was time well spent, as Martin is ultimately happy with the final product. "Developing a website from scratch involves a lot of trial and error, a lot of reworking," he said.
The Austin Bulldog published seven stories since its launch in April through June 1, 2010. "That's not a lot of volume but the stories are definitely having an impact," Martin said. "While we've been out pursuing other investigations, the regional press has been following and building on our work." The Austin Chronicle and The Williamson County Sun have both cited Austin Bulldog stories in their publications, he said.
Martin said he plans to increase the volume of stories published by assigning more investigations, after having raised $8,800 and qualifying for his second year of New Voices funding.
Another metric Martin uses to gauge his success is the number and amount of contributions. In the first two months of active fundraising, Martin has attracted 35 contributions; the largest at $3,000.
And in terms of visitors, Martin has seen a slight increase in unique visitors, number of visits and pages from April to May, 2010.
Unique visitors:
April: 1,200
May: 1,316

Number of visits:
April: 2,743
May: 3,233

Pages:
April: 18,362
May: 20,344

Hits:
April: 139,606
May: 134,299
Martin's attempts at foundation support have not yielded grants yet, but he remains optimistic. He reports that some of the negative feedback regarding an initial request was that the board "apparently believed we were being too certain about the outcome of the investigations we proposed".
In his second attempt, he "was careful to avoid judging the outcomes too positively," and was able to make a stronger case for funding based on additional research, he explained. A decision had not been made as of June 2010.
Martin continues to focus attention on what he calls of his best ideas of the past year, founding the Austin Investigative Reporting Team. While only producing two stories so far, the 26 members may be resources as he plans to "break down a specific investigation into manageable bite-size pieces that team members can do without a major commitment of time and energy."
"I think we have the opportunity to serve our community in a unique way by pursuing important investigations that other local media are ignoring," he said.
But fundraising remains "the biggest and most important issue we can foresee," said Martin. He plans to focus on ongoing fundraising with each story he reports and track down prospective donors with deep pockets to help raise significant amounts to allow him to continue running the site.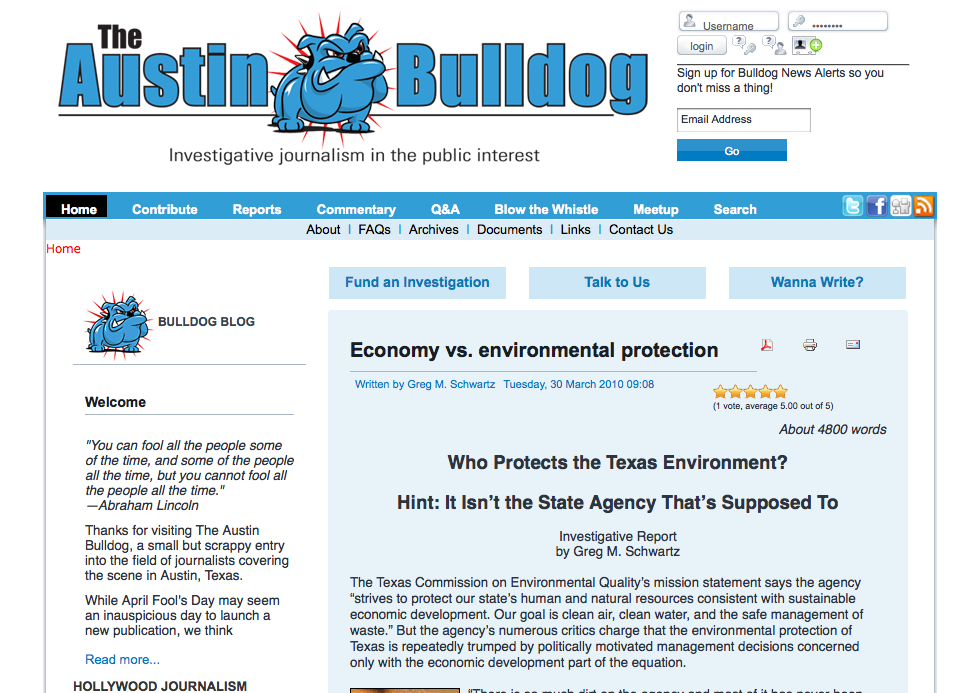 The Austin Bulldog is now live.
---
After success with the IRS, Austin Bulldog is ready to roll
December 2009
It's been an eventful four months for Ken Martin, the editor and publisher of the Austin Bulldog. Since his last report in September, he received a letter of approval from the I.R.S. that classified the Bulldog (under its official name as the Austin Investigative Reporting Project) as a public charity, exempt from federal income taxes, and eligible to receive tax-deductible contributions. This means that the Bulldog now operates as its own fiscal agent.
"We think that offering this high degree of interactivity in our investigative reporting projects holds great potential for building strong emotional and financial support for our work."
Martin says the speed of the approval surprised him.
"As it turned out, the application pretty much flew through the IRS review process," he says. "I sent the application via certified mail on August 13, the IRS received it on August 17, and the approval letter was dated just five weeks later. Some folks I've told this locally were shocked that approval was granted so quickly."
Martin believes that the application was processed so quickly due to the guidance he received from a book he mentioned in his last report, "How to Form a Nonprofit Corporation."
"It costs $31.49 through Amazon and is easily the best investment I've made for The Austin Bulldog," says Martin.
Martin originally planned to launch the site in November, but illness and other factors slowed him down. "The good news is, I think the odds of a successful launch are better for all the additional work we've done," he says.
Martin also plans to incorporate the crowdfunding idea used by the site Spot.us. He "whittled it down to its essence" and will use that approach to help fund The Austin Bulldog's investigative reporting.
"I will post pitches to our website with a stated budget that includes the writer's fee and an amount for our overhead and editing. In addition to posting the pitches on our website, I will, where possible, promote the pitches through e-mails to targeted prospective donors. For example, I have arranged to promote environmental investigative project pitches through a local environmental organization's e-mail system that goes to some 10,000 members. I'm betting the e-mail promotions will greatly increase the ability to get these projects funded."
Martin says the people who contribute funds for the Bulldog's investigative projects will be recognized on the website for their support. And, they will be able to participate in these projects as crowdsourcers, to tell the site's reporters about angles that should not be overlooked and key sources of information that should be considered.
"We think that offering this high degree of interactivity in our investigative reporting projects holds great potential for building strong emotional and financial support for our work. Listing the contributors this way also enhances the transparency of our operations, so that readers can judge for themselves how our sources of funding connect to the reporting we do."
He is continuing to search for additional funding, including joining investigative news networks that are already in existence.
Martin plans to launch operations sometime in January. His team is completing website development, and as soon as that work is finished and they have road-tested the site, Martin will start his own reporting. He will also be appealing to his team of freelance reporters and commentators to get busy providing content to publish when the site is ready to launch.
---
Learning to navigate the legal rapids to become a 501 (C)(3)
October 2009
Before Ken Martin had applied for a New Voices grant to launch the Austin Bulldog, he had decided that the website would be operated as a non-profit.
"Aside from the benefits of being able to offer tax deductions for contributions, I think operating as a nonprofit sends a strong message that we are dedicating ourselves to the sole purpose of serving the public interest, that we view journalism as a public service that is essential to a free society."
But what he found was a steep learning curve, a lot of wasted time and an experience, that by sharing, he hopes can save others a lot of effort.
"I think operating as a nonprofit sends a strong message that we are dedicating ourselves to the sole purpose of serving the public interest, that we view journalism as a public service that is essential to a free society."
Martin, who had already been involved with two other for-profit statrtups, began by contacting a lawyer about help with the Form 1023 that the IRS requires for approval of 501(c)(3) status. But he soon realized that if he continued down that road, it would cost thousands of dollars in legal fees. So he decided to do it himself. Using a sample he found in "Greenlights for Nonprofit Success," he created a set of draft by-laws then showed them to an accountant and a lawyer. After making some changes based on their suggestions, he decided to review the application using How to Form a Nonprofit Corporation.
"What an eye-opener that was," Martin says. "Using the line-by-line instructions from the book, I realized I had to radically beef up the supplemental information for the Form 1023. I also realized the bylaws I had already adopted were totally inadequate for IRS purposes. So I adapted bylaws from the CD-ROM provided with the book. After months of work, I sent the application to the IRS via certified mail on August 13, and I'm waiting for a decision."
Martin recommends other people who are thinking of applying for nonprofit status read "How to Form a Nonprofit Corporation" first.
Meanwhile, the initial board of directors for the Austin Investigative Reporting Project, the parent organization for The Austin Bulldog, was formed. Currently it consists of Martin, his wife, Rebecca Melanšon (who has been in publishing for 28 years, but on the business side instead of editorial), and Tom Spencer, a documentary filmmaker who has also hosted two popular public television shows for more than 20 years. Spencer is also is the CEO of the Austin Area Interreligious Ministries, a high-profile nonprofit in its own right. The board is working on adding four more members to represent critical areas of business, journalism, law, and philanthropy.
Currently theaustinbulldog.org site is a placeholder where people can register to be notified when the official site, which is being built using open-source Joomla program, is launched sometime in November. Martin has researched the websites of some 20 other local news organizations to glean ideas and incorporated some of them into plans for the Bulldog. Martin's biggest concern is how to pay his team of professional freelance journalists. Martin is not sure how much content the site will have ready on launch and continue to publish, a fact that he sees as a key to entice contributions.
Martin's says the site's focus will be on publishing high-impact stories, not on high volume. He's also hoping for lots of citizen participation.
"We want to engage readers in a two-way dialog that advances the cause of democracy, freedom of information and open government," the Austin Bulldog's f.a.q reads. "We believe that in many cases our collective audience knows more about the topics we cover than we do, and we want our readers to actively participate in focusing and refining our coverage. We want interaction, lots of it."
The Bulldog will also use ideas for investigative reporting projects that come from the site's readers.
Meanwhile, Martin and the board are looking for other avenues of funding. In September, they submitted Letters of Inquiry for matching grants from the Journalism Foundation and the Open Society Institute - an initial $25,000 to match the New Voices grant, and another $75,000 to match other funds they hope to raise in coming years. Martin is also considering applying for grants in the future from the Knight Community Information Challenge ( he plans to talk to the Austin Community Foundation about being a co-sponsor) and the Knight News Challenge.
"If it seems like I'm spending a lot of time focusing on funding, that's because I am," says Martin. "I want to raise money to pay for heavy-duty investigative reporting. The next push will be to use the community contacts that I and the other board members have to solicit significant seed money contributions so we can make a strong impact with our reporting."
Until he has the funds in place to pay his freelancers, Martin will begin doing his own reporting as soon as the website is prepared. He has at least one other writer who's eager to start as well - a staffer for another publication who wants to contribute. He will also be polling others in his initial team of a dozen writers (all writers he has worked with on investigative stories in the past) to see if they're willing to begin reporting without assurance of compensation.
Marin says he plans to start the website in early to mid-December.
"I think it's far more important to get it right than to set some arbitrary deadline that might or might not be met, or rush it and then not get it right," he says.
Martin says he will start with a soft launch (before seeking interaction with his audience) to make sure everything is working. Once he is convinced all systems are ready to go, he'll "begin making noise and trying to get press coverage about what we're doing."
---