Anansi's Web
Formerly titled Neo-News Network
Lori Peterson, Coordinator, Neo-News Hotline
Central District Organization

• Gary, IN
CONTACT INFO

Central District Organization
P.O. Box 64
Gary, IN 46402
(317) 679-3746
To build a news and information hotline for Gary, Ind., accessed via web, phone, mobile text messaging and mailing lists to supplement available media. Content will be generated by students and young professionals and coordinated by the Central District Organization, a group led by young professionals who have returned to Gary to live.
Check back for future news and updates.
• November 2009
• August 2008
• March 2008
• November 2007


| | |
| --- | --- |
| Anansi's Web from J-Lab on Vimeo.. | 2007 grantee Lori Peterson talks about what parts of the project make her proud as well as what surprised her. This interview took place on April 5, 2008, at the New Voices 2007 Grantee Meeting at the Hilton Garden Inn in Washington, D.C. |
---
A good idea still struggling to find a way to work
November 2009
By Tom Regan
Anansi's Web, based in Gary, Ind., is a great example of how a really good idea sometimes has trouble taking root in its community, frequently for unforeseen reasons. A 2007 New Voices grantee, the site is currently dark—site organizers are not generating news content for either the program's website or hotline.
The program ran into numerous problems in its second year. While it initially partnered with Street Level Youth Media (SLYM) in Chicago, the partnership ultimately dissolved over problems with transportation and the SLYM's facility.
"I discovered SLYM after reading the Community Media Workshop's email newsletter," says Peterson. "They offered a workshop entitled 'Get On My Level,' which taught youth how to express themselves using graphic and web design. After meeting with the trainers we discovered that they were having a hard time recruiting youth into the workshop while we had a solid group of youth that needed training. Also, the training, equipment and facilities at the Common Ground facility is unmatched by anything here in Gary.
"Because the Gary youth were (at the time) the only youth participating in the workshop, the trainers were able to tailor the training to the local issues the youth brought and I was able to work more closely with the trainers on content."
"We were most pleased with the opportunity to get youth involved in community issues."
But the cost of transporting the youth was never included in the website's budget. A local church allowed the group to use its van, but they were responsible for the gas. During this time gas prices were at an all time high and it simply got too expensive, says Peterson. Ultimately, the gas problem was secondary as the SLYM facility was destroyed in a fire.
Peterson admits she doesn't have a good grip on how many people have visited or are visiting what is left of Anansi's web because the project uses Blogger to host its website and did not install the analytic widget. Perhaps more surprising, Peterson admits that one reason her group didn't move faster to host its own website is that it was doing much better on social networking sites like Twitter, Facebook, and Myspace.
While it was in full operation. Peterson says that she was most pleased with the opportunity to get youth involved in community issues.
"We were able to take youth to City Council, school board and sanitation district meetings," says Peterson. "The youth were then able to share their take of these meetings and issues with their peers but also the community at large. Anansi's Web asked youth to articulate their side of the story on issues that mattered to them."
Young people in the program began with graphic art design and blogging. (Much of their work can be found at http://www.sl-goml.blogspot.com/). Their first project was creating avatars of themselves (the faces you see on the blog). During a discussion about the community conducted via Google Chat, the question that informed their next project arose: Where is Your Community? Youth created posters and stapled them to the abandoned buildings that inspired them and on city hall.
They collected surveys from community residents and as they developed their graphic design skills in Adobe Flash Player, the youth combined the message and general sentiment from the surveys, added their own original music and produced a video.
15 total youth went through the program and created 8 pieces/projects.
But Peterson admits that she and her fellow organizers weren't ready to deal with the personal nature of the feedback they received from these young people, which centered around how the project was being effected by the problems they faced in their everyday lives in the Gary community. And when fate dealt them yet another blow (the lost most of their equipment in a robbery), the program stalled.
"What worried us was the number of personal issues and challenges our youth raised that we were not equipped to address. Additionally, we encouraged our youth to be creative in their expression and invited their ideas. However with our limited budget and capacity, we could not build on many of their ideas, and after our office suffered a break-in resulting in the loss of our video camera, our video documentary project quickly deflated."
Before their equipment was stolen, the team of young web producers was working on a video documentary based on the top three topics the youth and community residents surveyed identified as pressing social issues: education, political corruption, recreation/lack of youth activities.
But Peterson says Anansi's Web is not dead. In August, the site's organizers (Peterson and Kim McGee, Youth Program Director) received 501c3 non-profit designation and are currently researching grant opportunities for the program. Individual donors, community and corporate sponsorships are other areas that organizers will try to cultivate in the coming months.
Perhaps even more hopeful, many of the youth that worked with the program and created content for Anansi's Web are still in close contact to the project's organizers. One of the site's youth program participants is now on staff as a field organizer, while another early participant is now a member of the site's board of directors.
Finally, Peterson says she was pleasantly surprised by just how far her New Voices grant for $17,000 was able to take Anansi's Web.
"We were able to sustain a youth program over two years," Peterson says. "In the first year we were even able to provide generous stipends [$10 an hour for $10 a week] to the youth participants. Our program is recognized in the community, and our youth have showed noticeable improvements in school and in their civic participation."
---
Caught in Anansi's Web
August 2008
Over the summer, student enrollment in Anansi's Web has dwindled. Project coordinator Lori Peterson says the attrition has made the project easier to manage, but not as robust. Nonetheless, the youth continue to create media projects that express their views, share their experiences, and foster dialogue about problems and solutions for Gary.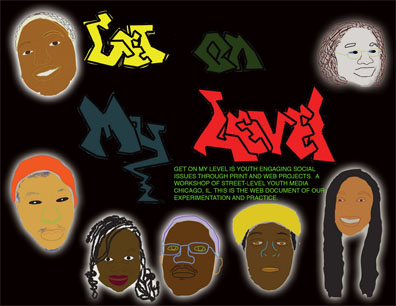 Anansi's Web has made a commitment to move more in the direction of citizen journalism. Peterson says she, along with a youth member of Anansi's Web and the editor of Gary Life Magazine, attended citizen journalism training offered by the Community Media Workshop, based at Columbia College in Chicago.
Founded by journalists, the Community Media Workshop helps neighborhood activists get their message to the media by training them how to tell their stories, amplify their voices, create new media and build bridges to media institutions.
Peterson also has some strong people on her side. Her steering committee includes Tavetta Patterson of Gary Life Magazine, Daylan Dufelmeyer of After School Matters, Steven Evans of Street Level Youth Media, and Kimberly McGee of Purdue University Calumet Social Justice Club, who is also the Central District Organization's Youth Program Coordinator. At a recent meeting, they evaluated the project and all shared concerns about its structure and sustainability.
One goal of Anansi's Web, formerly known as Neo-News Network, was to launch a Web-based mobile hotline where youth "newsgetters" can post hyperlocal news and announcements about community-building events. The company contracted to develop the hotline and related Web interface didn't work out. Disappointed but undaunted, Peterson is reaching out to new potential partners and hopes to deliver a new information hotline for Gary, Ind., this fall.
With the start of a new school year, a new crew of student participants will meet for three days of structured programming aimed at generating ideas and content. Peterson says the group will discuss social issues on Tuesdays, attend weekly workshops on video production at the local community television station, WJPN, on Wednesdays, and learn to write stories and post them to the blog and hotline on Thursdays.
---
LOCAL Parentis: Youth Bring the Peace Out
March 2008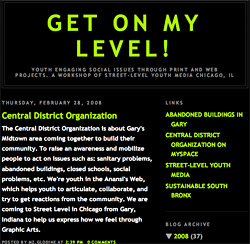 Anansi's Web (the program formerly known as NeoNewsNetwork) has launched a new blog for student participants in its graphic and Web design internship program. Coordinator Lori Peterson says the blog, called "Get on My Level," will enable youth to "share their voice on a range of issues specific to their local community of Gary, Indiana, including education, racism and violence." For example:
CHAT: WHAT ABOUT THE COMMUNITY?
ROCHE: So now that we have everybody on a computer ... 
let's get this conversation started ... 
When you look around your neighborhood, at the buildings, at the schools, etc., what do you think isn't working well? 
What concerns you?

LiL.Bit: um ... thinking ...


BLACK PRINCE: nobody cares is what i think, thats why the neighborhoods are bad.


ROCHE: What do you think they should be caring about?


BLACK PRINCE: the neighborhood


CHARISE: they should be caring about tha teens that getting pregnant

ROCHE: OK


BLACK PRINCE: and the people that's getting killed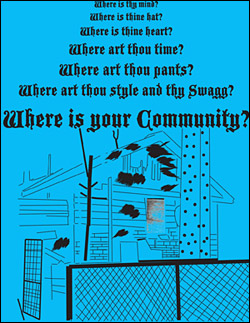 On Tuesdays and Thursdays the students continue to commute to Street Level Youth Media in Chicago where they learn Illustrator, Photoshop and InDesign. On Wednesdays, they meet in Gary, hammering out tough social issues and strategizing how to get their messages out. They recently produced a series of provocative posters aimed at shaking local residents out of apathy and into action.
Central District Organization, the project's sponsoring organization, has developed a partnership with Gary Life Education Initiative, an offspring of Gary Life Magazine. In addition to finding a home for the print projects the students created last year, Gary Life is providing professional mentors to match with youth according to their career ambitions.
Managing a project focusing on empowering poor youth of color has been an eye-opener, says Peterson. Commuting to Chicago for trainings has proven expensive, given the cost of fuel. The project is still trying to launch a mobile hotline, the core of its original proposal. The vendor can only provide a long-distance area code, a potential cost-barrier to access. Peterson says they are researching options, including using an easy to remember toll-free number. And they have been networking to generate interest among other community organizations that could use the hotline to post news and events.
---
Neo-News: Can You Hear Me Now? Not Yet
November 2007
What was originally conceived as a basic information hotline backed up by a website has been transformed into what Neo-News is calling "a blog-styled, open-source type phone line" where people and organizations can call in and post their own voicemail or text messages to the hotline. Residents and community groups will be able to purchase annual subscriptions at a yet-to be-determined nominal fee and that subscription will give them a pass code to record and access messages, announcements or any other news approved by the administrator of the Central District Organization.
For example, "For today's headlines, press 1; events, press 2," explains coordinator Lori Peterson. "When callers from the general public dial the hotline number, they can press their line of preference and listen to all of the messages posted in that category."
To date, they have been shopping for vendors willing to build a system that can accommodate various functions and levels of permissions for administrators and users. They have chosen Apps Communications from the Chicago area. The service will cost more than $1,000 to set up, including training) and the five lines will cost about $125 per month to maintain.
Learning Curve Ball: Volunteers don't have unlimited time. Says Peterson, "We underestimated the importance of dedicating paid staff to this project." As a result, they were unable to establish their planned summer internship program.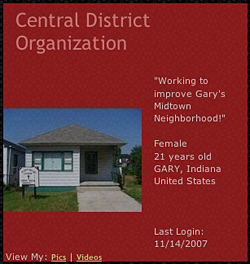 In the meantime, NeoNews has renamed itself "Anansi's Web." According to the African folk tale, Anansi (a spider) created the sun, stars and moon and taught people the basics of agriculture. Another Anansi story tells of how the spider tried to hoard all of the world's wisdom in a calabash. When he discovers the futility of keeping all knowledge to himself, he releases it into the world. "It is in this spirit that we hope to connect people to ideas and information through our community news project," says Lori Peterson.
In Fall 2007, Anansi's Web kicked off an internship program that paid six high school and GED students to participate in a series of graphic design, web skills and video production workshops offered by Street Level Youth Media in Chicago. The youth's first project was a series of posters about sexual assault and violence.
The Central District Organization has set up a MySpace page that as of November 2007 had 27 friends.