AllPrinceton

• Princeton, NJ
CONTACT INFO
Plans for a news hub for Princeton Borough and Township will first focus on public meetings, schools and development issues and then expand to include social, cultural and commercial areas. Donna Liu, a former CNN producer who founded an online news channel at Princeton University will lead the project, based at Princeton Community TV. Future support will be sought from community-based sponsors and advertising.
Check back for future news and updates.

---
Lessons from 2 Years of AllPrinceton.com
By Donna Liu
Founder, AllPrinceton.com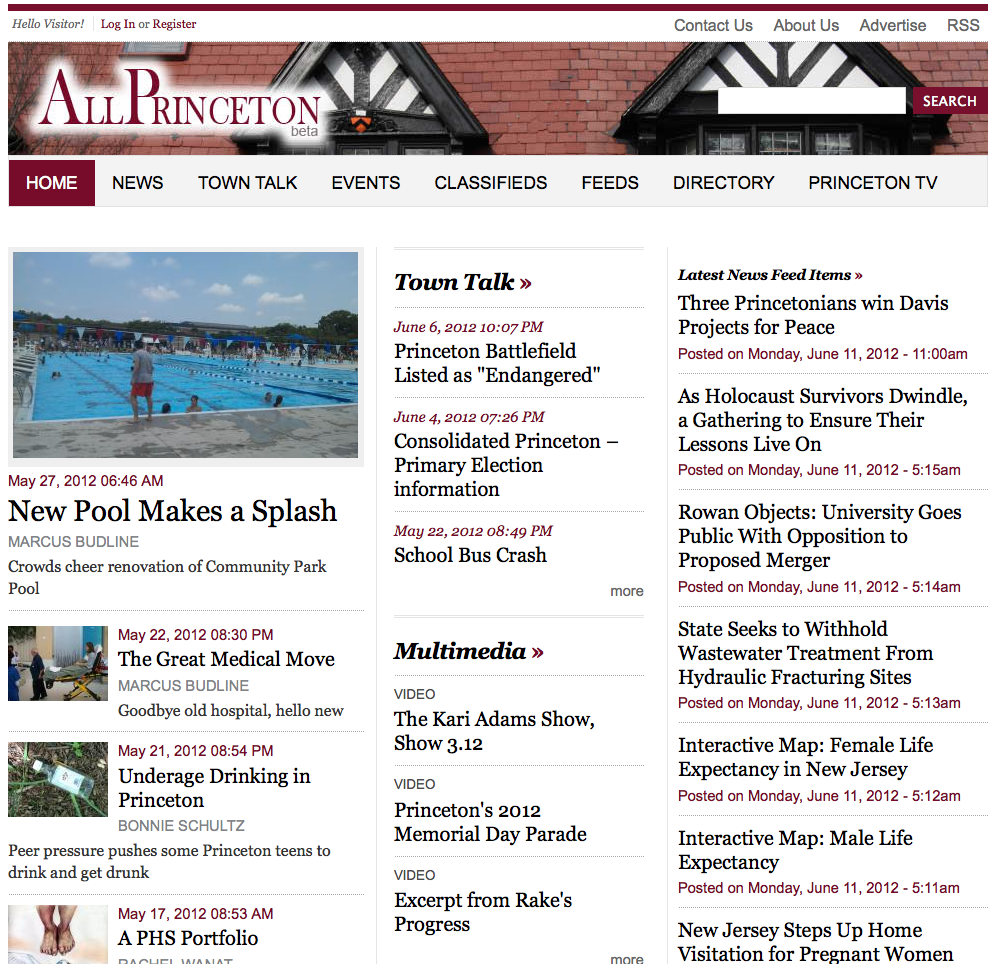 In the two years since the All Princeton website (AllPrinceton.com) went live, it has become a stable platform for community news and input and has become a useful teaching tool for local journalism students. However, it has fallen short of being the engaging forum it was originally meant to be and has not yet achieved sustainability.
With hindsight I can see why things have turned out this way, although not all those reasons were so clear at the outset.
Community News Platform
All Princeton provides general information for the people of Princeton, N.J., based on a mix of reported articles, user-generated entries and algorithmically aggregated content. The combination ensures a constantly updated collection of articles and events relevant to the life of Princeton.
The mix of content has not really broken any new ground, however, as far as finding innovative sources of reporting. There is not much user-submitted content, even after holding regularly scheduled workshops at the public library, and individual sessions for certain designated bloggers and writers.
I see two main reasons for the anemic participation:
The Drupal platform is too complicated. With hindsight I would advise anyone who launches a hyperlocal site to choose a simpler blogging software. Although All Princeton was launched fairly quickly in Open Publish, an open-source Drupal platform designed for news websites, the platform proved to be quite complex, requiring the skills of an experienced developer not only to customize it but also to maintain it. Open Publish held the promise of a turnkey solution for the kind of mixed content we offer, plus easy integration with ad modules. It was neither turnkey nor easy, and several potential contributors just gave up.
Convincing people to write for publication, even on subjects they are passionate about, is harder than I had anticipated. For one thing, there is an explosion of websites asking good writers to participate, and I sense a kind of public fatigue on the subject of "engagement." Secondly, I now believe that citizen journalism can only work if the organizer is also a community activist, and that requires a certain personality and set of skills that not all journalists possess.
Teaching Tool
All Princeton's greatest promise, and possibly its most useful function to the community, is as a vehicle for the younger generation to get hands-on journalism experience. Through partnerships with Princeton University and the local high school, we had enthusiastic reporters who really appreciated how much their curiosity improved their understanding of where they live.
Training workshops were held on two levels:
Basic journalism training for reporting and writing.
Multimedia workshops in collaboration with both Princeton TV - the local community access station and our fiscal sponsor - and Princeton University's Journalism Program.
It is the teaching component that differentiates All Princeton from other local news operations: by giving the community access – not just to a platform but also to the skills – we got back some original reporting. There is, however, a certain transience associated with a student workforce.
Engaging Forum
All Princeton failed to engage the community in an open discussion of public affairs. Part of the problem, as with user-generated content, was a very buggy publishing platform. Another roadblock is the fact that genuine comments can drown in the incredible amount of spam that floods the comment feature.
I also think we are up against an old-fashioned culture, which still sends letters to the editor but does not post online. I wish All Princeton could have influenced a cultural shift, but it may require more proselytizing than I could handle.
Sustainability
At the end of two years, All Princeton still does not have a sustainable business model. The Digital Media Bootcamp held at Princeton University was a source of some income and will be again this year – enough to sustain a modest level of paid activity. But advertising faltered, first because of a dead-end relationship with the now-defunct GrowthSpur, and then because of the lack of any expertise in – or time for – marketing or sales.
Shortly after All Princeton launched, several competing news sites also started up in Princeton, including a Patch site and some pure aggregators. Combined those with the websites of several existing local newspapers, and local merchants began to complain that too many people were after them to advertise. There is no shortage of platforms to choose from, but the audience for any of them is quite fragmented.

My own need for steady income eventually compelled me to trade in my volunteer time on All Princeton for a full-time job elsewhere, thus making it difficult to do much more than maintain the site at the current level of activity.
Looking ahead:
I think the future of All Princeton lies more in the direction of empowering students than it does in engaging the public, although in the best of all worlds, one would lead to the other. Education will be my focus for the coming summer of internships, and another Digital Media Bootcamp at the university in the fall. If we can provide to the community at least as much awareness and access as our partner, Princeton TV, has done in the field of video, that will be a measure of success.
---
Outreach and Collaboration Take Over in Second Half of 2011
In the second half of 2011, AllPrinceton focused on developing media educational outreach, and cementing the collaboration with the local TV access station.
Over the summer, our high school internship program gave selected students from the high school newspaper some multimedia training, including video and Web production techniques. These students also created some original community news coverage, and continued to do so once the school year started. The benefit of involving this age group goes beyond journalism training. We found that sending them into the community opened their eyes to the workings of their own town, and stimulated their interest in community affairs. One student enthused, "I LOVE covering these town meetings, it's so interesting to see how everything works!"
In the fall, AllPrinceton coordinated a Digital Media Bootcamp for Princeton University students. Many participants were already involved in print journalism, and wanted to acquire multimedia skills to be more competitive in today's job market. The course incorporated video production and editing techniques, image and audio editing and basic web production. It was an intensive week, commissioned by the Humanities Council, and offered to students of journalism. This course also yielded, as a side benefit, some new contributors to the site. The plan is to use this multimedia course as a template for other workshops to be offered elsewhere in the community.
On the business side, AllPrinceton is collaborating with our fiscal sponsor and media partner, Princeton Community TV, to create a campaign for joint sponsorship of community media. With the recognition that standard rates for online advertising were not going to work for the modest local traffic on either of our sites, we are joining forces to solicit more general "underwriting" in the public media sense, for our combined community news output. The revenues will be shared between AllPrinceton and Princeton Community TV, and will serve to fund continuing reporting, as well as some basic costs for the television station.
Local elections in November 2011 offered a way to showcase our multimedia collaboration with Princeton Community TV. AllPrinceton once again cosponsored their debates among local candidates. It was a high-stakes year for Princeton voters, who were asked to decide whether to consolidate the Borough and Township into a single municipality. We orchestrated the town's first ever live TV coverage of an election night, using iPhone4s as remote cameras, Skype for two-way connection, talk hosts in the studio and live streaming of the two-hour show on AllPrinceton.com. The success of this coverage has prompted us to consider staging a more regular political talk show, in part to fill a void in New Jersey coverage following the closing of the state's only public TV station last year.
We have done no new development on the OpenPublish software platform upon which AllPrinceton was launched. Upgrades had been so buggy they seemed to introduce as many new problems as they solved old ones. OpenPublish did release a Drupal 7-compatible version, which I am reluctant to implement because of past experiences. I'm not sure I would recommend this platform to future users, especially if they do not have in-house Drupal support. The development costs can be prohibitive.
Instead, we will be devoting our resources to developing new opportunities with Princeton TV, including both coverage and sponsorship. That is our focus for 2012.
---
June 2011

In just under one year of operation, All Princeton has secured its place amid other Princeton news outlets by developing a steady stream of content, engaging in outreach to attract followers and encouraging community participation.
"The All Princeton website [has become] a stable source of community news and events, with its hybrid presentation of original, collective, and aggregated content," reports Donna Liu, founder of AllPrinceton.com.
Not only has the site established a "steady flow of content," but by using social media and mobile outreach tools, the site has also been developing a small, but established, readership. As of June 2011, it counted 200 unique visitors a day and 190 Facebook followers
The use of social media has paid off. Liu reports that Facebook and Twitter have allowed the site's following to grow. AllPrinceton.com even devoted a small portion of its budget to Facebook advertising.
The site's most thriving features are news articles, town talk, and events, the three areas that are incorporated in the iPhone app, Facebook page, and Twitter feed, and are "most reliably updated."
The site has also successfully furthered its relationship with the local community by holding community news workshops, recruiting community bloggers, and creating partnerships with the local educational system.
"All Princeton has come to the attention of some of the more Web-literate members of the community. Thanks to a series of workshops at Princeton Community TV and the Public Library, we coaxed some early adopters to contribute to the 'Town Talk' section of the site. The most enthusiastic supporters tended to be people associated with community-based NGOs," says Liu.
Liu has found that community members are eager to contribute to All Princeton's efforts. The site's success in establishing working relationships with the local community will culminate this fall with "a week-long intensive Digital Media Bootcamp at Princeton University," says Liu.
As All Princeton enters its second year of existence, Liu hopes to advance the site by concentrating on newsgathering, community training and sustainability.
-Emily Harwood
March 2011
AllPrinceton, a hyperlocal site covering the town of Princeton, N.J., has doubled its web traffic in recent months and recently joined a growing number of sites in the newly formed Hyperlocal News Association in New Jersey.
In the first quarter of 2011, web traffic to the AllPrinceton site has more than doubled on a month-to-month average, says Donna Liu, the site's founder.
Liu attributes the increase in the number of page views possibly to bad weather that kept people indoors and the lack of other media outlets covering the immediate area. However, she says, it may also be "because we now boast a fairly steady stream of articles." Those are generated by a greater number of contributors as a result of a partnership with Princeton University's Press Club.
AllPrinceton has also joined in efforts to create the first Hyperlocal News Association for New Jersey. "With hundreds of municipalities, many of them not covered by traditional media, and with growing threats to the survival of both newspapers and public media in New Jersey," Liu notes that hyperlocals are among the most promising news alternatives around.
The Hyperlocal News Association, of which Liu serves on the advisory board, is a project of Citizens' Campaign, a nonprofit charged with cultivating public service leaders.
Liu indicates the New Voices grant has allowed her to match the going freelance rate in the Princeton area.
At the same time, she has continued to increase her outreach to the community and brought in more contributors. The local public library staff has invited AllPrinceton to set up regularly scheduled workshops in its Tech Center. The workshops include some basics in web literacy and how-to presentations on using the AllPrinceton platform.
The site also has regular "Town Talk" submissions from residents and local non-profit organizations, which were a result of a series of workshops held with the site's partner, Princeton Community TV.
In February, AllPrinceton submitted an iPhone app to the Apple Store for approval. The process can take a number of weeks. The first phase of the app will be read-only, but plans are underway for a read/write version that would give users a mobile interface for submitting content.
---
September 2010
AllPrinceton is taking the "agile development" approach, which is to say the site was live long before it could be considered finished. Sometime in July, 2010, AllPrinceton.com went up very quietly, with barebones content and a few e-mails to beta-tolerant friends who would be willing to kick the tires. I don't expect to ever be able to call the site "finished", because the point of agile development is to be constantly responsive to the changing needs of the users, and the point of a community site is to evolve with the community it serves.
Progress So Far
AllPrinceton is taking a multi-pronged strategy to developing this site. The first three prongs: (1) website development; (2) community relations; (3) editorial content - are already well underway. The fourth, (4) commercial sustainability, is still in the planning stages. The feeling is that we need the first three in order to develop an audience, and we need the audience before we can approach the commercial sector for support.
Website
Because AllPrinceton is going to depend on a community of users, we wanted to make a Beta version available to the public as soon as possible. That led to the decision to adopt OpenPublish, an out-of-the-box Drupal profile especially geared to online news.
Why Drupal? After considering Joomla and WordPress, I chose Drupal because it has a track record with other hyperlocal news sites, it has a large online support community, it is relatively easy to implement, but also because of certain details, such as: Drupal has an elegant solution to granting different levels of permissions for different user profiles.
Why OpenPublish? Because it had already integrated many Drupal modules that we would have wanted anyway: Blogging, Topic Hubs, More Like This, Calais, Flickr, GMap APIs, Feeds, Apture, etc. It is free and supported by an active online user group. It is, however, not bug-free. Nor is it that intuitive to customize. So after a steep Drupal learning curve on my part, I had to acknowledge that I had learned just enough to be a danger to the site, and thanks to the J-Lab grant, was able to hire a part-time Drupal developer. With his help we are tweaking the site to include additional features such as Organic Groups, which will give sub-communities the option of creating their own online Groups within the AllPrinceton umbrella, and a more robust community Feeds option, which will enable community websites to update to AllPrinceton without having to upload twice.
We are also in the process of developing an iPhone app for AllPrinceton. This side project will involve two stages of development: (a) a read-only app for users to receive notification of updates; and (b) the more complicated development of a read/write app that will enable users to upload from their phones.
Community Relations
Participation in AllPrinceton can occur on several levels, each of which corresponds to a user role on the site: Read-all for the general public; Registered User for the right to comment, add events and classifieds; Author for a group of so-called "trusted authors" - members of the Princeton community to whom AllPrinceton has reached out for regular submissions to a community blog.
AllPrinceton's partnership with our fiscal sponsor, Princeton Community TV (PCTV), is a natural extension of the principle of community access media. That partnership plays out on many fronts: PCTV programs are immediately integrated into the AllPrinceton site via their Vimeo feed; PCTV broadcasts of civic events such as an ongoing tax uprising can complement our coverage; we will be co-sponsoring pre-election debates for local council candidates in October; PCTV is offering AllPrinceton the venue and support to host the first reporter training session; and the community partnerships already established by PCTV form a good starting point for online community collaboration with AllPrinceton.
These partners are the first to have been offered the role of Trusted Authors, and include representatives of organizations such as the local governments (there are two), library and arts councils; environmental groups; educational institutions; environmental groups; the League of Women Voters; Princeton University's journalism program, etc.
Editorial Content
The model for AllPrinceton is to present several flavors of editorial content. Articles written by AllPrinceton, whether by me or by designated reporters, appear on the left side of the page. The central column is devoted to community submissions, whether these are blog entries or feed items. Blogs and Feeds are not edited, but their source (trusted author) is curated. The right column, at the moment, is simply a live Twitter feed based on the keyword "Princeton". It gives an interesting and constantly changing view of the local buzz.
Interestingly, the local newspaper, the Princeton Packet, was eager to allow AllPrinceton to aggregate their news feeds. This would seem to be an indicator of a shift in attitude on the part of Web-based news sites, foregoing exclusivity in favor of driving more viewers to their site.
Still at an experimental stage on the site is the concept of "topic hubs", which is a feature of OpenPublish, and which brings all related content together into a single dynamically-updated page.
Commercial Sustainability
The only advertising vehicle currently available on the site is the classifieds category, which we offer for free.
We will eventually add banner ads, and have signed a letter of intent with GrowthSpur to help us negotiate the online advertising tools. But Princeton (population 30,000) is unlikely to be able to support a news site at the current CPM or CPC rates, if only because we will never get enough click-throughs to pay. We will have to either offer fixed banner ad rates based on need rather than numbers, or reinvent the commercial model for online news.
We are considering the creation of a "commercial circle", in which participating merchants, for a subscription fee, will be able to post to their own group blog, touting daily specials, deals, events, etc.
Goals for 2010
This is AllPrinceton's to-do list for the rest of 2010:
Website
Further refinement of the architecture of the site
More de-bugging of functionalities
Making the interface more user-friendly
Adding mobile interface
Extending further into social media outlets
Community Relations
Increasing the number and diversity of "Trusted Authors"
Boosting the public profile of AllPrinceton
Offering more training for potential contributors to the site, including local public school students
Editorial Content
Establishing a more regular schedule of coverage
Building up a reliable stable of freelance reporters
Offering a publishing platform and news lab for local students of journalism
Commercial Sustainability
Instituting an ad sales program
Creating a local business directory
Building a subscription-based "commercial circle" through which merchants and services can publish directly to their audience
Exploring commercial sponsorship and fundraising opportunities
Self-evaluation
AllPrinceton is still in the "quiet" phase of development. We have done no marketing campaigns yet, but focused instead on a series of private talks with community leaders, activists, educators, and media. It seems best to get community input while shaping the site, rather than present the community with a ready-made site that may not match their needs.
Reception to the project has been extremely positive. Organizations agree on the need for a timely, online community-based news and information site. Several groups have asked for an online space for them to communicate internally and externally. Others are looking for a unified calendar that can be sorted by category. Still others are looking to participate in a common and searchable place for all the relevant civic information. The library has even suggested that we base ourselves there, as they reinvent their own role in the digital age.
But it can be challenging to translate those positive feelings into productive action. AllPrinceton will be holding reporter workshops starting in late October, which will help build a community of contributors who are comfortable with publishing in this format. The first of these will be tailored to residents who have already expressed interest in contributing, but need some training and support. The second one will be in conjunction with a Digital Media Bootcamp which I am coordinating at Princeton University. Journalism professors at Princeton University have been offered AllPrinceton as a multimedia platform on which their students can publish their work. A similar invitation will be extended to the local high schools.
Another challenge at this stage of the project is how to translate collaborative ideas into user-friendly web tools. As one of my phone app developers put it, "intuitive is hard" to develop. Open-sourced out-of-the-box solutions are powerful, but really quite buggy. It is one thing to start a local news blog with a single column of content. There are lots of free solutions for that. It is altogether a different level of difficulty to design a self-organizing online community of information. While I still believe OpenPublish is a good framework to start with, customizing it can create an endless to-do list of features I wish the site had. I was brought up short by the critique of a younger reader, who said she liked the site, except it looked too much like a newspaper! Work to be done…
- Donna Liu, Princeton, NJ